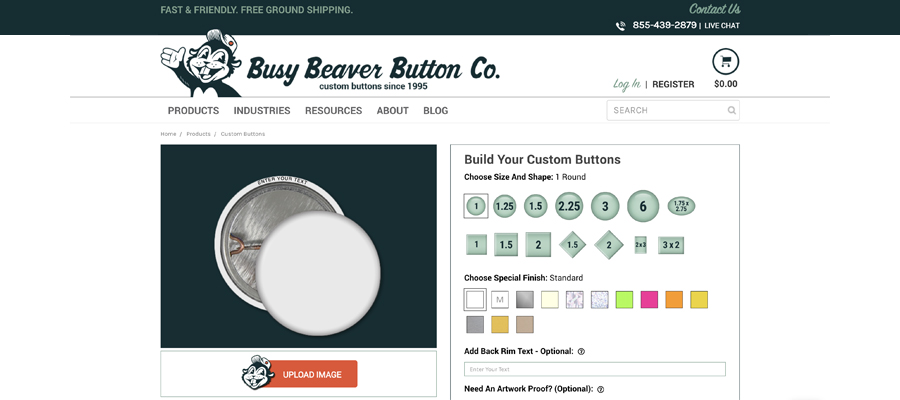 Everywhere you go, you can still hear people say, "Oh, that's cute as a button!" but what does that really mean? The Busy Beaver Button Company is on a mission to corner the market on button cuteness.
Tucked in amid the wide boulevards, historic mansions, and quirky boutiques of Chicago's Logan Square neighborhood, Busy Beaver has created over hundreds of thousands of designs since 1995 and produced tens of millions of buttons.
All of this began when founder and CEO Christen Carter went off to London on a study abroad and noticed the popularity of buttons about rock bands and worn by their most fervent fans. She decided to return to Chicago and produce unique buttons for her favorite bands and her very first contract was with the indie rockers Guided By Voices.
From a one-woman operation in her college apartment, Christen has built Busy Beaver into a 25-person production facility for high-quality, on-demand buttons. She even set aside space inside their headquarters to lodge a world-class Button Museum, preserving pin-backed wearable mementos stretching back to the 1700s.
The Industrious Beaver, Hemmed In By Success
A button is a very personal statement. For customers to proudly wear a message close to their hearts, or anywhere else, it must be truly meaningful, visually stunning, and finely crafted. In growing the company, Christen's motto served her well, "Be industrious, work collaboratively, think creatively and give a damn." That took to the point of producing around 100,000 buttons per week with more than $1 million in revenue, operating with a lean crew full- and part-time workers.
The log jam, so to speak, was in the proofing. Customers needed to see detailed, accurate mockups of the buttons before their dreams went to press, so production ended up spending far too much time on hold while customers and designers went back and forth over digital proofs.
Christen knew she needed a "Design Your Own Button" system for the company website, but the technical challenge of managing the programming and development of an interactive customizer was both too expensive and outside her area of expertise. As a responsible busy beaver, Christen wasn't about to bite off more than she could chew and jeopardize orders already in the works. She called in the customization experts at Doogma.
Guiding the Flow of Work
Denise Gibson, Director of Marketing, Sales & Customer Experience at Busy Beaver, recalled, "Doogma gave us an affordable option we could build into our new site. With the Doogma App, the customer can see a mockup of their button during the ordering process so they no longer need to request a digital proof." That one simple solution eliminated weeks of production delay, opening up new possibilities for how jobs are organized and vastly improving the customer experience.
"Our new site launched in September 2018 with the new Doogma Designer™," Gibson continued. "Customers love being able to see their artwork mocked up on a button, especially with our special finishes. It's hard for them to imagine their artwork as a sparkle button, but the Doogma visualization allows them to see that before purchase."
Happy customers wearing their buttons, telling their friends about the experience, act as a natural amplifier for the Busy Beaver brand. They now have an army of brand advocates wearing advertisements for Busy Beaver wherever they go.
Leave It to Busy Beaver
The one-touch online designer has opened a new chapter in the company's history, delivering greater process efficiency and stronger financial performance. "Our profitability per order has increased," Gibson concluded, attributing this outcome to streamlined workflows and customer satisfaction. She advised other businesses looking for quick wins and measurable results, "Find good partners to work with when building your site. That can make all the difference between success and failure." Customization that gives the customer greater control of the outcomes brings people back time and again while their pride in what they've helped create drives shares and recommendations. Christen's company is proof that building brand loyalty and crafting a better workflow can be as easy as pushing a button.
Key Takeaways:
For customers, the ability to rapidly customize their button and instantly see exactly how the final product will look, ensures a more fun and interactive buying experience leading to higher conversions.
For Busy Beaver, the return on investment has been excellent. Key benefits include: a streamlined order process, increased sales, higher customer satisfaction, and customers are more familiar with the special product finishes and other unique product options.
The following factors played an important role in building a customization experience that is optimized for Busy Beaver's products: a deep understanding of the product, what customers want and how they buy, leveraging Doogma's extensive experience in product customization and seamless integration into the BigCommerce platform.
If you're looking for a solution for interactive product customization, personalization or bundling, you'll probably find something similar that the Doogma team has already done.
Please visit the new Doogma BigCommerce App Demo store here: https://demo.doogma.com
or contact sales@doogma.com, tel +1 (312) 270 0700