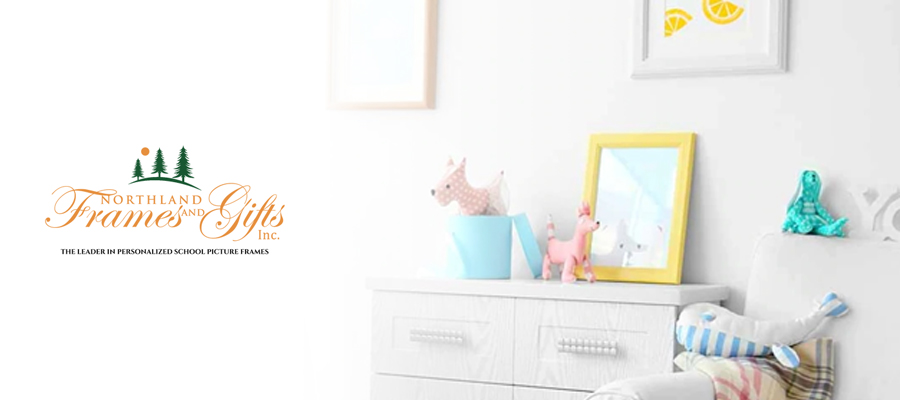 The way you frame a picture changes everything about how you think about it.
What do all pictures everywhere have in common? Every photo from the first daguerreotype almost 200 years ago to the latest group selfie somebody posted on Instagram 30 seconds ago?
The one thing you always see, even if you don't notice it, is the frame. Even in today's seemingly all-digital world, a physical picture frame transforms an average photo into an iconic piece of family history.
When families look for customized, solid wood, high-quality picture frames to preserve the moments they want to remember forever, Northland Frame's and Gifts is ready for its close up.
Operating from the musically named small town paradise of Oconomowoc, Wisconsin, Northland concentrates on two incredibly popular lines of business: photos of Baby's First Year and class pictures for K-12 students. The frames they create are very personal mementos, so the personalization of long-lasting frames that are beautiful on their own makes a winning combination. Northland has found a sweet spot in the market where they really have no competition.
Northland is a family-run business. John and Lynn Stanislawski founded the company in 1992 and their son Jake represents the second generation to join.
It's a classic trinkets to riches story. John and Lynn started out traveling around to craft shows and art festivals selling decorative items like driftwood floral arrangements, squirrel feeders, all kinds of things. The high-quality, hand-crafted solid wood picture frames were what really caught on.
Like children everywhere, Jake introduced his parents to new technology. All the traveling to fairs and festivals became expensive, exhausting and slowed down their sales process. "All through high school, I worked part-time in the business. Eventually, I said, 'Let me help you sell online.' Today they are a 100% ecommerce business."
Shipping is not a problem when most of your picture frames can fit into the same size box. In terms of reaching new markets, platforms like Etsy and Amazon have been very valuable, but they come with a cost. The Northland team is constantly searching for new ways to raise awareness of the brand and bring customers directly to the company website. Doogma offered a competitive advantage for their ecommerce store that no one else could match, at a price that made sense for a small, family-run business.
Each frame should be as individual as the child featured inside it. Northland was able to offer customers many options for frame sizes, types of wood, writing on the frames, background insert colors and so on. The problem was that customers had to imagine what it would look like. There was no way to laser cut, arrange, photograph and upload all the thousands of possibilities.
Jake found Doogma after a great deal of research on the best customization engines on the market. Doogma's recent integration with Big Commerce had a great deal to do with his decision to try them out. Most other online configuration software solutions were far too expensive for an operation like Northland Frames and the others didn't seem to have time to work with small operators.
Doogma was there every step of the way, customizing the experience of adding a configurator engine to the Northland ecommerce site.
"We started small with one product, the School Picture Frame, and then scaled it up," Jake explained. "We added a cool feature where the customer can see in real time how their child's name would look on the picture frame."
Visualization changed everything for customers. With the configurator in place, they began to see other ways to use the service.
"Now people say, 'Can I send you my pictures?' Customers want to send Grandma a gift of a framed photo, but it's not easy for them," Jake said. "After we send them the frames, customers still have to print out the pictures, mount them in the frames, and then repackage and deliver them to Grandma. Thanks to Doogma, we are now entertaining a creative way that customers can upload a picture and have the finished framed piece shipped directly to Grandma's doorstep."
That sort of think-like-the-customer orientation has been a highly effective revenue engine for Northland.
Even though Northland has been using the Doogma Designer™ for less than a year and around 75% of their annual sales ring in during the holiday months from October to December, their financial results have already been astounding.
"With the website upgrades we've made this year," Jake said, "sales revenues are up 250%," Jake pointed out.
Doogma has also greatly reduced the costs associated with experimenting on new designs, combinations and personalization options. No more designing on dedicated software, laser cutting and photographing new concepts. It's all done inside the Doogma configurator.
A second big boost came from platform sales. Not only did the Doogma Designer™ enable customers on the company website to have a better user experience, but also Jake uploaded new images created within the Doogma Designer™ to his Etsy and Amazon accounts. That brought dramatic increases in sales on those platforms as well, including a jump of up to 50% on Etsy orders.
In the big picture, there are many more innovations to come. Jake and Northland are now working with the Doogma team on an entirely new concept by Doogma: a plug-in configurator that could dynamically generate images on marketplace platforms like Amazon and Etsy.
With their ecommerce sales and operations framework firmly in place and ready for scaling up as needed, Northland is prepared to reframe their expectations. Jake concluded, "We will surpass over a million in sales this year or the next. It's hard to keep our feet sometimes based on the orders."
When Northland started out as a family-based business selling decorative items at craft fairs, who would have pictured this photo finish?
Customers buy more when they can instantly see how the final custom product will look. This also leads to increased customer satisfaction.
The Doogma team worked with Northland Frames to best design a user experience that works for Northland products and customers. The approach of starting with one product, getting experience and then scaling up to additional products proved to be a winner.
A great visualization solution on Northland's own website not only increased sales on the website but also on platforms like Etsy and Amazon Custom, thanks to the rich visualization provided by Doogma that makes it easy to add many new variants, each with their own look and feel.
If you're looking for a solution for interactive product customization, personalization or bundling, you'll probably find something similar that the Doogma team has already done.
Please visit the new Doogma BigCommerce App Demo store here: https://demo.doogma.com
or contact sales@doogma.com, tel +1 (312) 270 0700