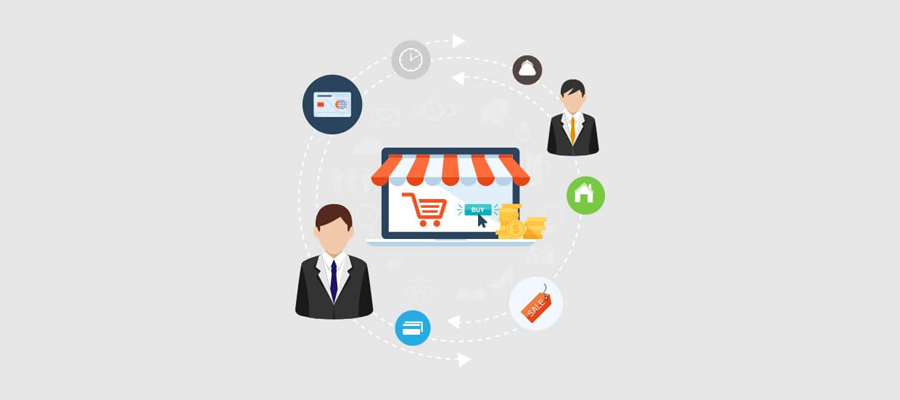 What separates a merely functioning online store from a successful one?
Like in many other fields, the answer to that question is complex, and is dependent on so many factors such as timing, the quality of the products, the marketing strategy and so much more-
Some factors are debatable. Like which design works best with your target audience; which provider to work with; what kind of media marketing is most productive; or which dressing you'd like with your salad…
But some things are a matter of fact. Like the basic criteria an online store must meet to handle the overwhelming competition. And while it can be a real hair-puller deciding on the right design or the right social media marketing strategy,
Choosing the right platform is pretty basic-
You have four available options:
Outsourced off-shore turn-key solution

In-house IT developed proprietary platform

Traditional ASP model

Outsourced cloud-based SaaS vendor
These four options offer different benefits and shortcomings, but they all provide a viable software solution. The question is, do they meet these next few basic criteria needed for an online store platform.
Want to talk to us about customizing your online products? click here.
So let's discuss the basic criteria for the best online store platform:
Performance, trouble shooting and customer service
These factors are definitely a soft spot with the traditional ASP model: Although dramatically better than it used to be, this technology is clearly giving way to the SaaS solution. This is mostly due to lower bandwidth, seamless almost invisible integration and automatic upgrades that the SaaS solution offers.
The off-shore turn-key solution also falls short here, with slower reactions, lower accessibility and communication problems.
Expertise in building configurators
This one's tough on the in-house IT developed platform, since the IT department usually isn't designed to handle projects of this magnitude, and is often not experienced enough or even qualified to build a configurator. As opposed to a dedicated vendor, who's whole purpose is building configurators.
Online shopping is already a huge phenomenon expected to grow even bigger, maybe becoming the main way to shop. But e-commerce companies already know that. The big news about online shopping, is that it's becoming more of a mobile activity than a desktop one. Online shoppers are increasingly mobile-device users.
With that in mind, e-commerce companies need to start thinking in mobile-commerce terms, that is, making your platform available on multiple mobile devices.
And here again cloud-based SaaS seems to be more suitable than traditional ASP models, due to its flexible technology which enables responsiveness on multiple devices. In this reality- better follow the trend and make sure your platform allows you to be available on all fronts.
It goes without saying that SaaS offers a better UX experience than ASP technology, for reasons such as mentioned under 'performance, trouble shooting and customer service.'
But it doesn't necessarily end there- the user experience is a much broader term than just trouble shooting or fast integration. It describes a much deeper relationship between the customer and the vendor, which relies on the understanding that if you don't provide them with the fun, quick and easy experience they want- they will go somewhere else that will.
With that in mind, UX is a first priority when it comes to choosing your platform.
An off-shore turn-key solution might be problematic here, mostly in providing a perfect "front-end" from far away. The traditional ASP model falls far behind in terms of speed and performance. So either you have a 'killer' in-house proprietary platform dedicated to handle UX, all the way from design to supporting measuring tools, or you're left with the cloud-based SaaS-
It seems this one is the most suitable candidate to provide the perfect UX for your customers. It not only offers easy integration, better performance and better customer support, but also supports measuring tools to optimize UX to drive greater engagement and grow conversion rates.
And last, but not least- is ROI
Return of investment is probably one of the hardest things to measure, mainly due to problems in measurement methodologies and finding the relevant data.
However, three factors are always to be considered while measuring your ROI: time to market, total cost of ownership and change management.
While in-house DIY platforms might seem cheaper at first, their total cost of ownership, including man-power, hardware and software license, maintenance costs and time- is much, much higher than outsourced solutions.
And although an off-shore provider often offers a lower price, the overall cost of handling communication and cooperation problems, customer service shortcomings and security issues- is very high.
The ASP doesn't provide the best ROI either, since it requires individual attention and human involvement almost on every level, due to its individualized configuration.
Finally, the cloud-based SaaS most likely provides you with the best ROI: with SaaS the application is installed and configured quickly and easily, and your time to market reduces significantly. It's considerably cheaper than any other option on the market today when considering total cost of ownership. And it's easily monitored, automatically upgraded and updated- requiring minimal human engagement.
The Winner
It seems the one option addressing all 5 criteria for the best online store platform, is the cloud-based SaaS. And it's not shocking news, considering this is exactly what a good SaaS vendor is supposed to offer- a platform that will increase your revenue by providing these criteria.
Want to talk to us about customizing your online products? click here.