Critical Metrics:
Year Over Year Units Sold: up 80%
Order Value: up 8%
B2B Product Customization by Doogma on a new BigCommerce store for ASG Online.
Logistics is the language of the 21st century global economy. It's how supply chains stretch across continents and how items can arrive at your doorstep on the same day you order them online.
If logistics is the language, then warehouses are the grammar. Like mini-hubs of commerce, warehouses are the structures that make it possible for every item imaginable to make its epic journey from the assembly line to the delivery truck.
Amongst this dizzying array of arrivals and departures, Dave Grundy is the mind behind one of the more critical components of the global logistics web, as Director for ASG Services. Dave is responsible for the creation of warehouse identification and marking labels that keep all those moving parts flowing in the right direction.
Last year, Dave called in BigCommerce and Doogma to help solve one of their biggest challenges in customer experience.
The Challenge: Simpler Customization for a More Complex World
Label creation is a precision job. Generally, it's a task for engineers not designers because you have to think through the entire logistics workflow before you begin. One wrong label could spell disaster for many warehouse locations, not to mention the financial repercussions for everyone from the source retailer to the forklift driver.
Dave had put together a Magento-based customization engine on their website so customers could precisely define their labels and see the results for error-checking. The problem was that it was too hard to use, even for engineers.
He explained, "Our Magento customization engine was capable enough, but too resource hungry from our end and not intuitive for our customers. Some were patient enough to work with it, but for the most part – No. People needed to just jump on, build the label and go. It was clear that we had to give them a better experience."
That's where BigCommerce came into the picture. Dave's IT team worked with BigCommerce to simplify their ecommerce experience. As Dave was reviewing ecommerce platforms, he consulted with the Doogma team who were quick to recommend BigCommerce due to the powerful built-in product options and modifiers. Dave reviewed multiple ecommerce platforms and decided on BigCommerce due to the very smooth integration with Doogma.
The Solution I: BigCommerce Build a Better Engine
BigCommerce expertly built the ecommerce site for maximum scalability so Dave could instantly increase the number of products and variants as needed. That was extremely time consuming with the old Magento system. With the BigCommerce piece in place, they added unique pictures on each option and added variable price scaling, all on a single page.
One of the most significant advantages BigCommerce brought to the table was speed of API calls, given how much data Dave had to move to meet customer expectations. Even inventories involving thousands of SKUs could sync changes to their catalogs in minutes.
In the subsequent migration from Magento to BigCommerce, Dave had to do a lot of the hard work on the development side in the end "I had to rebuild it myself," Dave laughed. "Actually, it was Dan [Ostroff at Doogma] who put me on the right track.
As an unintended consequence, Dave developed a deep understanding of what customers big and small expected from the site and which elements were most important to them.
"We work with all sizes of customers," Dave said, "It could be a $7 billion multi-facility infrastructure project or the local wine store. Any company with storage needs and storage labeling. They come to us because we can produce 50 labels or 50 million. There are no concerns about setup times or switching from one category to another. What matters most to our customers is that they need their labels printed right the first time and they need it now. They can't afford to waste any time on this."
Once the BigCommerce piece was in place, Dave and Dan turned their attention to Doogma's precision customization piece.
The Solution II: Doogma Builds a Better Customization Engine
Doogma's configurator gave Dave's customers options such as the ability to type sample text for the signage, choose colors, test out different sizes and see the results instantly.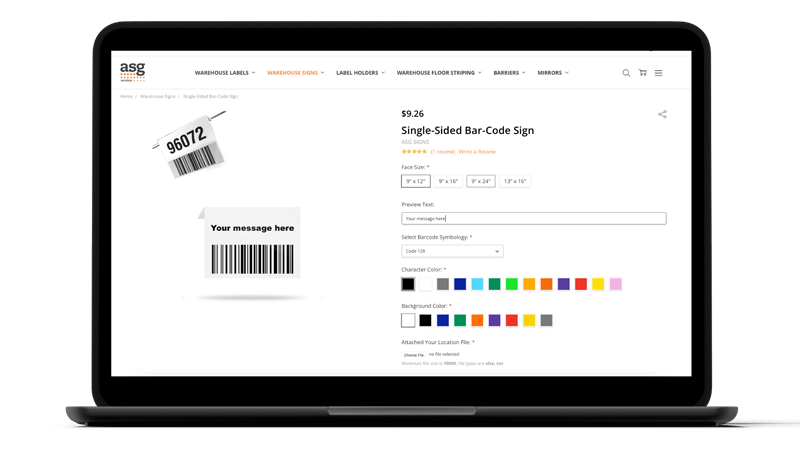 Dave was skeptical at first. "Doogma just looked so simple and comfortable. All the complexity was hidden away on the back end. It quickly became obvious to me that this was made for people who were intent on getting their work done right and right away."
Even the implementation was smooth. Dave noted, "The whole team at Doogma was excellent and gave us all the support we needed to make the customization piece work flawlessly."
The Results: Metrics and Experiences
The enhanced customer experience provided by BigCommerce and Doogma became clear immediately based on feedback and customer reviews.
"The reception has been just extraordinary," said Dave. "We read through loads of positive comments, especially from customers who had struggled with trying to use the previous site. Our new site is easy, it just works and customers can see exactly how their customized labels are going to look."
Going over a recent review, Dave read off, "Here's one: 'Well done on making it a nicer experience! We're delighted!"
Although there are many factors in what drives business, especially in volatile global markets at the tail end of a pandemic, BigCommerce and Doogma were major forces in driving revenue by clearing the path to purchase.
"Our units sold are up 80% over last year as things get back to normal," Dave commented. "Meanwhile, order volume has gone through the roof. We keep on adding new products and we've seen some that sold when they never have before."
Dave continued, "We've seen our online revenue up another 6% and a big part of that was order value, which grew by at least 8%. We're deepening our relationships and reaching new customers so…. Yes. Very happy."
Takeaways:
1 BigCommerce and Doogma have turnkey solutions ready for any company building their ecommerce footprint or expanding their customization horizon.
2 Even the smartest people in the world don't have time to waste on complexity when it comes to ecommerce. They choose simple, intuitive interfaces like Doogma's customization engines for their preferred online experiences.
3 Better customer experiences are directly correlated with better sales volumes and larger average order sizes. It doesn't take a genius to see why.