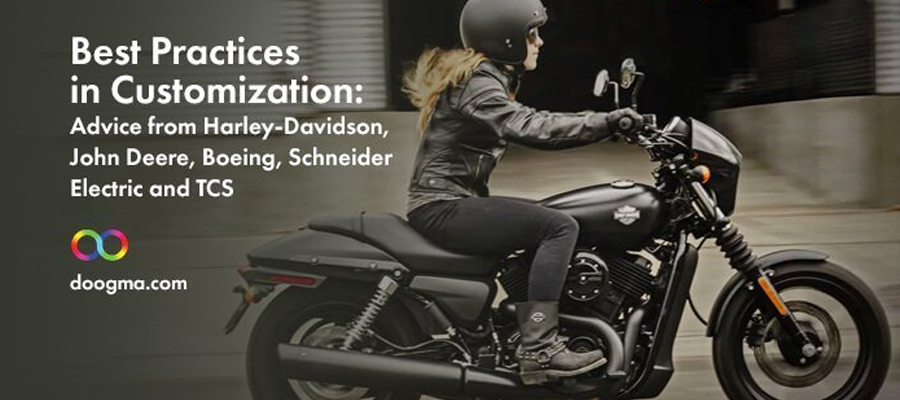 People want the freedom to customize the things in which they invest. Bain and Co. reported that 25-30 percent of customers are asking for online customization options. Deloitte found that one fifth of those customers will pay a premium up to 20% for this ability. However, 42% want the brand to make suggestions that they can review.
If you wanted to embark on a customization project, where would you begin? You could spend months investigating options and collecting research, but a smarter approach is to learn from the multi-national corporations that have already incorporated customization programs into their online business operations.
Here's a look at some of the leading enterprises that have implemented online customization programs, along with some insights on why they made the choices they made.
Lesson 1, from Harley-Davidson
"Use customization to build a community for your customers."
One of the early adopters of online customization, Harley-Davidson created their CVO (Custom Vehicle Operations) program by starting small and creating an online space where customers could talk to each other about what they wanted. Initially, they just offered a few customizations to their most popular motorcycles, such as larger-displacement engines, original paint designs, and late-addition accessories. They have slowly built up the options available and encouraged customers to bring their designs to dealerships. This not only empowers customers, it increases profitability in the distribution channel.

Lesson 2, from John Deere
"Reduce complexity in your production line."
It's much easier to introduce new items than retire them. Over the past century, John Deere's line of tractors and farming equipment offerings grew to be unsustainably complex. However, just cutting unprofitable lines would upset too many customers. In order to avoid the disappointment of removing lines, they brought in customization to streamline what they offered and still give customers the freedom of choice. First, they surveyed customers to see how flexible they were in trying something new. Next, they assigned numerical values and a prioritization schedule for what customers wanted most. Finally, they created a formula for projecting out the costs of starting with a standard model and adding customizations to it. Allowing for product customization provided a win-win scenario.
Lesson 3, from Boeing
"Don't neglect the aesthetics."
If you would think that customers who have the resources to design their own private jets are all about business, you may be surprised. Boeing achieved a major customer experience coup by offering a different kind of online customization tool. The general public, not just private jet customers, are welcome to design the outside of a plane with colors, images, words (within limits) and special flourishes. Amateur designers can then rotate their creation in 3 dimensions to see it from all angles. The good will and good publicity they generated have been worth millions and raise cultural awareness about their jet interior customization program for people that can afford private jets.
Lesson 4, from Schneider Electric
"Guide customers in choosing designs that make the most business sense."
They may not be a household name like some of the other brands on this list, but Schneider Electric is well-known and respected in the field of energy management. They are a leader in energy efficiency and are always in search of smarter ways to deliver power. Schneider Electric deals in long-term projects where customer requirements often change slightly over time. That drives unnecessary costs in the design, sourcing and manufacturing processes. In order to counter this, they introduced a more efficient way to get customers what they want – an online configurator with standard components and a price estimation tool. This limits customer options before the contract is signed and prevents modifications that don't add value being added close to delivery in the project timeline.
Lesson 5, from TCS Closets
"Amplify your messaging on low-cost social channels."
What good is designing something really cool if you can't tell anyone about it? Think of online design as only the first part of the process. What customers actually want is to show off what they have created to the people that matter most in their lives. TCS allows customers to design a walk-in closet that mirrors an exclusive boutique of their own wardrobe. This transforms the task of getting dressed every day from a difficult mental chore to an uplifting self-confidence event. TCS then took the next step to create a Pinterest page where customers share their astounding creations. When customers link to and comment on their images, they drive traffic, a thriving referral business and huge gains in brand reputation – all for a minimal marketing investment.
Customization: The New Normal
Every day, more and more companies are discovering the value of an improved customer experience from customization. As the prices of 3D printers drops and the logistics of delivery around the world gets simpler, customers are becoming much more demanding in choosing the perfect item. Old forms of one-color-fits-all manufacturing won't survive in the new economic landscape. The ability to implement smarter online customization, following the advice of trailblazers, may soon be considered a basic business survival skill.
For more information on achieving the ideal product customization for your customers, please visit www.doogma.com or call us at (650) 251 4078.