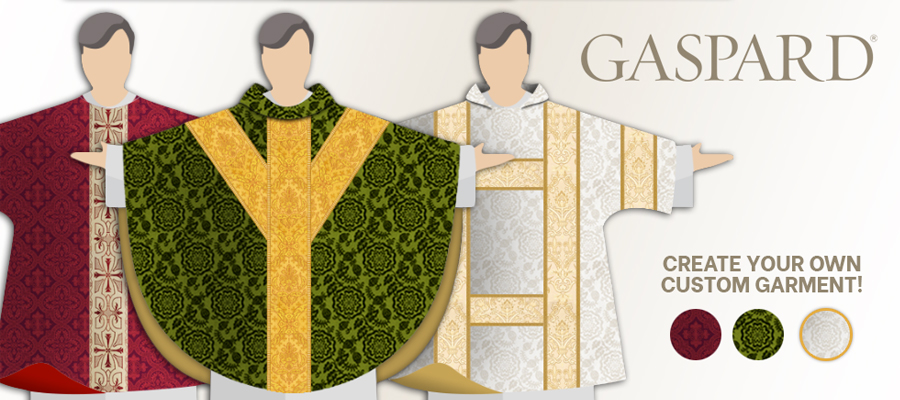 Customer Spotlight: Clergy worldwide are using a modern solution to design their own custom garments on Gaspard.com
There are tens of thousands of churches spread across the US, each with needs as unique as its own congregation. Where can they go to find custom-made, handcrafted garments and altar accessories that fill their spiritual needs?
The answer is exactly what Gaspard Inc. has been perfecting for the past 65 years. That's why they have become one of the top three manufacturers of Christian vestments anywhere. From his modest family-owned workshop in Brookfield, WI, Jason Gaspard, son of founder Robert Gaspard, oversees the production of hand-crafted robes, special religious garments, vestments, banners and all kinds of clergy essentials for churches across the nation and beyond.
Churches come to Gaspard in search of the human touch. The artisans at Gaspard still do embroidery, applique, and painting by hand using traditional methods. There are no shortcuts to producing quality garments, but the latest technology has made it much easier to meet the special requirements of each individual church.
While most of the churches served by Gaspard are in the US, new technology has helped them reach out to the global Christian community. Jason noted proudly, "We have worked with churches in Canada, the UK, Italy, and even as far away as Japan and Australia." Gaspard produces liturgical accessories for just about every denomination and for people at every stage of life, from baptism towels to funeral palls.
Jason's father Robert was obsessed with offering the highest quality fabrics and hiring the finest artisans. His strategy paid off with customer loyalty and word of mouth referrals. "One of the things that he taught me as far as value in the business is that quality is not expensive. It's priceless." That high-touch customer attention built Gaspard's reputation for excellence, but it also created a challenge.
As the company's customer base grew, Jason struggled to serve more churches in less time. He spent years looking for the best design solution that would collapse the time from initial design to final shipping. Churches understandably wanted to feel confident about the designs and fabrics before they committed to making a purchase. The process of using traditional mockups and fabric swatches tended to be slow, expensive and didn't give customers the full picture of what they could expect.
In order to achieve his vision, Jason tested several garment software solutions to adapt them to online customization. When these proved non-feasible for his requirements, Jason found Doogma.
The Leap to Online
Jason contacted the Doogma team, and they suggested a much more efficient approach to the ordering process. Gaspard could use their own illustrations and photos to give the rich feel and coloring of each garment. Then Doogma software lets customers mix and match options to see how the final customized garment would look.
Jason commented, "Customers wanted to see what they ordered before it shipped so we had to seek out a better way to serve our churches." Many customers had definite ideas about wanting something truly special. Some came to the site not knowing what they wanted and others only needed a bit of guidance. The flexibility of the Doogma configurator gives each customer the freedom to choose what they want without being overwhelmed by all the options.
"Our customers love our Custom Corner," Jason said. "Customers enjoy the freedom of selecting the fabric, the braid, the lining and more. They can see their orders materialize in real-time and share the images with the other decision-makers in the church."
"They don't need to imagine anymore," Jason continued. "They can feel at ease knowing that they are creating precisely what they want."
The new site also eliminated one of Gaspard's biggest expenses: mailing out thousands of glossy catalogs to churches all over the country. "The cost was too high and the ROI too low," Jason explained. By moving the inventory online and deploying Doogma to make it customizable, Jason allowed churches to browse or co-create their own customized apparel while at the same time making the entire process faster and less costly.
The Two Laws of Ecommerce
Although life without printed catalogs is still new to the Gaspard family, they are seeing their business expand and reaching customers they never could have in the past.
Jason's best advice for someone moving into ecommerce comes in two parts. Part One: Be easy to find. That takes an ongoing commitment to improving SEO and clearly communicating what you do best. Just as important is Part Two, though: Be memorable. "Create a user experience that keeps them coming back and turns them into long-term customers," Jason said. "You can't impress them if they can't find you, but then you have to offer them something really unique."
With a team of tailors, seamstresses, and artisans sharing 200 years of combined experience, Gaspard and Doogma have set a new standard for customized vestments. Jason summed up their advantage as "We are able to offer new techniques, different braids, different trims and unique designs that nobody else has to offer."
Bringing together the best craftsmanship of the old world with the smartest technology of the new world lifts Gaspard above the crowd.
Takeaways:
1 "Quality is not expensive. It's priceless." Lower costs without lowering quality by making your workflow more efficient. Doogma configurators give customers more options and more control while shortening the time from design to realization. That translates into a design process that is more fun and gives the customers what they really want at the end of it all. There is plenty of evidence that customers are willing to pay a premium to receive more relevant products with a faster turnaround.
2 "Our customers love Custom Corner." When customers use an interactive tool to create their own designs, it gives them a greater stake in the final product. Customers become directors, not just shoppers. When someone is involved in the creation of a product, they are eager to show others what they've made. Seeing expert craftsmen turn an idea into a professional creation turns an object into a point of pride.
3 Being found is good, but make sure your brand will be remembered. The business of ecommerce depends on reaching your target audience above all the noise, but awareness isn't enough. To hold on to them, offer your online customers something they love and make the experience enjoyable. After all the effort of bringing visitors to your site, make the experience on the site worth bragging about. People come back when the products are unique and the shopping experience is worth sharing with their friends and family.