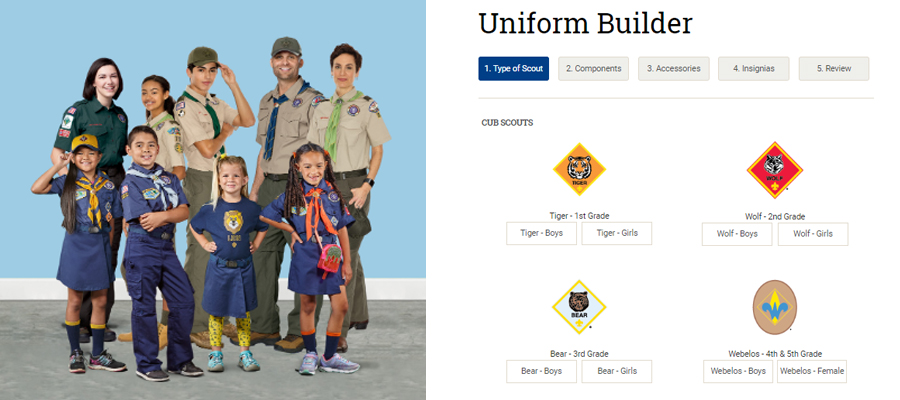 The Company: Scout's Honor
An American icon for over a century, the Boy Scouts of America (BSA) provides leadership training for more than two million children and another one million adult volunteers. From the youngest Tiger Cubs to top-level Eagle Scouts, there are 12 levels of achievement open to children aged 7 to 18. Among the toughest administrative challenges of running an operation, this big has been maintaining uniformity. Specifically, maintaining all those uniforms.
Boy and girl scouts, plus their adult pack leaders, require a vast number of multi-item uniforms, each of which must be customized, refreshed and updated as children grow. For pack leaders, the process of ordering the right uniforms and accessories for scouts could be long and complex. Executives at BSA realized that they needed to create an online uniform shopping experience that was trustworthy, loyal, helpful, friendly, and kind to their customers.
The Problem: Simplify the customer experience for online uniform shopping
The executive leadership team at the Boy Scouts of America needed an intelligent e-commerce website that could perfectly present all the options involved in purchasing uniforms, reducing the complexity of mixing and matching all the parts, but still allowing for maximum choice. Ideally, pack leaders should be able to complete an order in a few clicks and then visually confirm what they purchased.
The Solution: Finding the fastest, easiest path to conversion
The first step for BSA was to find a digital commerce solution partner with the depth of experience and expertise they needed to create an e-commerce experience tailored to the specific needs of pack leaders. They turned to Doogma partner and industry leader, Guidance and for ideas on how to create a winning customer buying experience that was both fun and functional for pack leaders. Guidance is an industry-leading digital commerce service provider based in Los Angeles. The Doogma Designer™ was the right technology solution for the project. Guidance and Doogma set about putting the technology to work to create the best interactive user experience for BSA customers.
The uniform builder puts the pack leader in control — offering them options based on their needs instead of just laying out inventory categories, like shirts, shorts, caps, etc. As a result, not just pack leaders but also boy scouts and girl scouts of all ages can see exactly what they need from one central online home for uniforms. Doogma realized that this was an ideal case for utilizing an interactive bundling. Due to a large number of the variations and customized accessories, a bundler would allow shoppers to add multiple products simultaneously from one product page straight into their shopping basket, which could then be easily reviewed before purchase.
To help shoppers visualize their scouts in the uniforms, BSA brought in professional photographers to create the images for the photorealistic product bundling software.
The Guidance and Doogma partnership delivered a seamless custom uniform builder and integration with Magento Commerce 2. Guidance was also recognized with two W3 Silver Awards for Technical Achievement and Children/Youth for its work with BSA.
The Shopping Experience: Real images for real conversions
The first thing a shopper does when they enter the uniform builder program is to choose a scout level, from Cub Scout Tiger up to Scout Leader, male or female. The choices the shopper makes generate a personalized image of the scout at the correct age and level. Shoppers can immediately see that they have made the right choices by the updated image of the photo-realistic model.
Then the magic begins. Shoppers can dress their online avatar, adding tops, bottoms and all kinds of accessories in various combinations, including personalized pack numbers, badges and insignias.
It's simple, personal and immediately tangible. The shopper can review their order visually and go right to checkout, knowing that they got everything they need in whatever quantity they choose.
The Results: Larger orders, better conversion rates
Boy scouts and girl scouts of all ages, as well as adult pack leaders, can now explore the uniform builder and move fluidly from first-time site visitor to happy customer. Bundling personalized uniform pieces and accessories helped BSA massively upgrade order sizes and reduced their cart abandonment rates. Across the e-commerce space, cart abandonment rates average around 73% for desktop shoppers, and rates are even higher for mobile shoppers. That's a painful fact for online retailers in a world that is increasingly mobile and inundated with options. BSA is making uniform shopping a better experience for its members. In return, members spend more time on the site, buy more items, stay engaged through conversion, get what they want the first time and then tell their friends about how much fun it was. Product bundling and the new uniform configurator are proof that "Doing a Good Turn Daily," for customers delivers great returns for the organization as well.
Key Takeaways:
Interactive Bundling empowers sellers and customers alike. Users would much rather mix and match items without leaving the product page and then add everything as a bundle to the shopping cart.
Presentation of the available options for a specific group of customers (e.g. cub scouts) helps the buyers make sure that the various components can go together.
High quality, photo-realistic imagery builds customer confidence, creates a fun experience worth telling their friends about, and increases conversions. Bundling multiple items increases the average cart size and reduces cart abandonment rates.
If you're looking for a solution for interactive product customization, personalization or bundling, you'll probably find something similar that the Doogma team has already done.
Please visit the new Doogma BigCommerce App Demo store here: https://demo.doogma.com
or contact sales@doogma.com, tel +1 (312) 270 0700