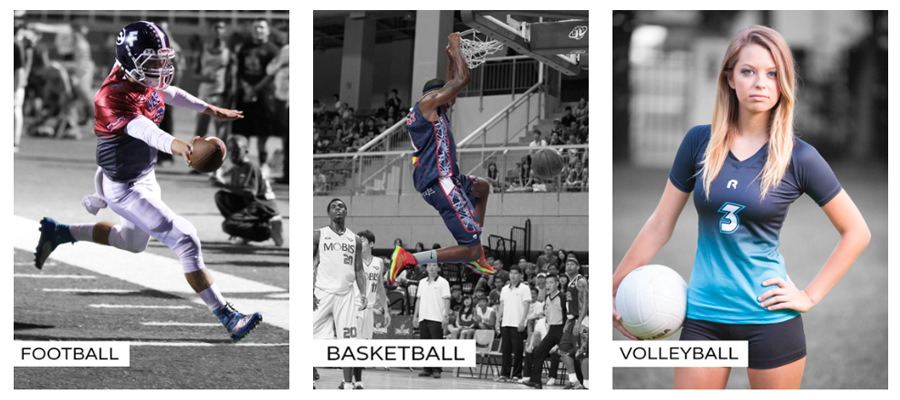 "We've been using Doogma's Custom Uniform Builder for two years and the teams love it, especially the coaches. It makes the uniform design process easy and fun for them." Robert Fazioli, Imperial Point.
If you've been in the stands at any sports event and heard "Ball is life!" there's a good chance you know exactly what that means. Even though the phrase started out as "B-Ball is life," meaning basketball, players in all sports, even those that don't use balls, have adopted this off-grammar mantra as code for keeping your head in the game.
Imperial Point brings that same single-minded commitment to creating customized sports uniforms, assuring coaches everywhere that their teams can hit the courts looking as awesome as their game – like a full-court toss at the buzzer, nothing but net.
Robert Fazioli launched Imperial Point in Fort Lauderdale, FL, when he saw a need for sublimation printing of uniforms based in the US. "My first job out of college was with a start-up custom uniform provider who manufactured overseas," Robert detailed on his company website. "I decided I wanted to pursue my own business specializing in American production and custom sublimation made in the USA.
Sublimation printing differs from screen printing in that it infuses the design directly into the fabric at the molecular lever, resulting in high-resolution images with vibrant colors that are practically permanent. They don't fade, peel, bleed or crack, no matter how hard the player goes after the ball, game after game.
"The biggest challenge our customers faced was time," Robert told us in a personal interview. "They needed time to see their designs before they could commit. We needed a way to cut down the time from design to production."
That's when the word came for Doogma's online customization engine to come off the bench.
"One of our IT guys found Doogma and they were our number one pick. They stuck out as by far the best pick for what we needed," Robert said.
What they needed was a way to collapse the back and forth between picking a design and colors, printing a sample, reviewing the sample with all the necessary stakeholders and authorizing the team uniforms.
Many of Robert's clients are school teams, from elementary through college age players. When there's a school involved, there are more than just coaches and sponsors that have to sign off on the uniform order. There is often input from school administrators and a range of other district overseers. It used to take a long time to go from initial concept to game-ready jerseys.
Robert was able to speed up the process through keeping all the fabric handling, sublimation printing and productions processes in-house, but the approval process remained a bottleneck until the Doogma's online engine rewrote the rules of the game.
Doogma's online customization engine immediately generates graphics that customers can see for themselves online and make adjustments in real time to discover precisely the right fit. Robert recalled, "We've been using Doogma's Custom Uniform Builder for two years and the teams love it, especially the coaches. It makes the uniform design process easy and fun for them.
Over the past few years, Robert has seen Imperial Point expand to cover uniforms for teams playing baseball, basketball, football, softball, volleyball and wrestling. As his sports coverage grew, he also expanded to more teams across the US.
Robert commented, "We've seen our sales grow 40% over the past year. School and team sports uniform printing is a rapidly growing market and we've recently secured customers from Virginia to Hawaii."
https://www.theimperialpoint.com/
https://www.theimperialpoint.com/shop/dynasty-mens-sublimated-basketball-uniform/
Imperial Point doesn't show any signs of slowing down and the number of school and other sports teams is growing exponentially across the US. For anyone else getting into the arena of selling online, especially for anything related to team sports accessories, Robert advised, "Develop a focus. Offer your customers the quickest way to a solution."
The youth tournament sports market looks like it is growing to hit $15.5 billion by 2024 and all that is up for grabs. To get there first and make the score, you're going to have to be on the ball.
Takeaways:
1 "Cut down the time from design to production." You're not going to be able to compete on price in a global market. Quality and time to market are unbeatable advantages, allowing you to set a price that's profitable. Save your customer's time and they will be back.
2 Make the process "easy and fun." Buying things can be therapeutic. People feel great when they can finally purchase what they want. Unfortunately, too many ecommerce sites make the buying process so complicated that customers lose their enthusiasm. Research how buyers experience your site. Add tools to make your site more fun to visit and easy for them to hit the Confirm Purchase button.
3 "Develop a focus." Think like the customer and imagine the most direct route to the solution you want, with minimum delay, complications or friction. Then use the latest technology to be the provider of that direct route. Ecommerce and online customization are the engines that can take you there.