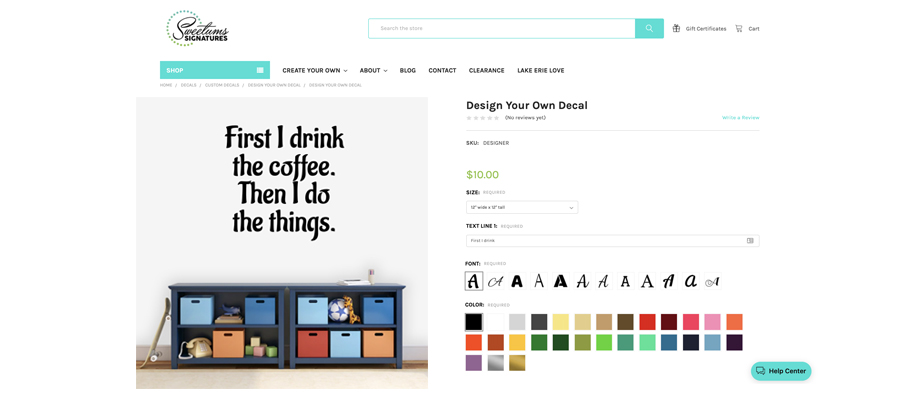 The future is personal. People want their homes, their clothes, and their work environments to reflect who they are at a deeply personal level. That means that the era of mass production now has to step aside for the arrival of mass personalization.
Sweetums Signatures is at the forefront of this new wave in more customized, more personal ecommerce. From her country home just north of Attica, OH, Danette Martin operates one of the nation's most versatile craft houses of personalized decals for homes, clothing and much, much more. When you find the perfect image or a quote that sums up who you are, then it deserves a place as part of your home's décor. In other words, the writing is literally on the wall. It's time to talk to Danette.
Founding a Next-Generation Business by Design
Northland is a family-run business. John and Lynn Stanislawski founded the company in 1992 and their son Jake represents the second generation to join.
"Starting a business is not easy," Danette cautioned. "Be prepared to work more hours than ever before. But the work is flexible, and if you love what you do, that's all that matters!"
Sweetums Signatures has secured a leadership position in the personalized decal sector over the past 12 years. The business has certainly proven to be a huge change from Danette's former, more traditional job in the corporate world, which kept her under pressure and on the road.
Danette started Sweetums Signatures on the side when she noticed a growing demand for uniquely designed decals on her husband's race cars, as well as for decorations on various other projects for friends and family.
"I started Sweetums in 2007. Prior and into 2008, I worked at a corporate company as a trainer and district manager," Danette explained. "This taught me a lot about managing people, how to manage expenses, prioritize workflow and most importantly… what I did not want to do for the rest of my life
She knew she needed a new emoji in her life, and personalized design was the key. Starting with simple decal printing, her business grew to incorporate printed vinyl banners, signs, and then custom canvas wall art.
Customers loved it and wanted more, so she added a DTG (Direct to Garment) printer to put personal messages on everything from hats to shirts to giant tents for event promotions.
The problem with giving everyone the kind of personal service they needed was the time it took to get the design right, the breaks in workflow, and the back-and-forth over proofs and approvals.
The Age of Experience
The defining feature of 21st-century commerce is that nobody buys things anymore.
They buy experiences.
The two are very different and only companies that learn how to manage the transition will thrive in this new economic landscape.
In the old world, customers went shopping during business hours and chose the best options from what the store had on hand. Ecommerce evolved that concept, making the inventory practically infinite and opened shopping hours to 24/7.
The third wave of personalized ecommerce is happening now, where customers tell the manufacturer what they want, often designing it themselves, and seeing a true-color image of what they made before they buy it.
This is how Danette handled orders in person with friends and family, but didn't know how to replicate that experience for online customers.
Her contacts at BigCommerce recommended Doogma.
Doogma Lets the Customer Take Control
Based on specifications provided by Sweetums Signatures, Doogma created a Design Your Own Decal tool. Now site visitors from around the world can write their own messages with a specific font, size, color, etc. They can then visualize how the decal will look in their own homes with options for choosing the room, wall color, and more.
https://sweetumssignatures.com/bless-our-nest-wall-decal/
Danette said, "Prior to [Doogma's] design-your-own app, our in-house designer took customer requests to create a proof. Many times, there would be days between emails asking for more information, sending and approving proofs. We still need to custom design many items for our customers, but this took the simple requests out of our workflow!"
That made it possible to handle for her to more orders in less time, while improving customer satisfaction and shrinking the number of returns.
A Sweet Deal for Sweetums
Danette's offerings and her business model have been so unique that Facebook did a profile of her and her team at Sweetums Signatures.
In that profile, Danette revealed that new technology and marketing techniques have brought her a 33% rise in YoY sales and the ability to respond to customer queries 3X faster.
Although Danette has only had the Doogma Designer™ in place for a few months, it has already helped her customers see how their designs will look in the real world so they can make a purchase with more confidence.
Many businesses have followed Danette's lead over the past decade, offering the customer more freedom to design their own surroundings. Still, demand for a customization and personalization option online is outstripping supply, leaving a great deal of market share on the table for early adopters of experiential commerce.
Key Takeaways:
Sweetums Signatures is seeing enormous growth as they perfect online methodologies for scaling the "personal" and creating a personalized design aspect of their business. What once could only be done by one-on-one personal service is now being done by the user online, on their own schedule.
Customers are not just buying "products", they are buying experiences.
The experience starts online and transitions to a real live product. Whenever the user sees the unique item they helped to create, they take pride and remember the experience of the custom creation.
If you're looking for a solution for interactive product customization, personalization or bundling, you'll probably find something similar that the Doogma team has already done.
Please visit the new Doogma BigCommerce App Demo store here: https://demo.doogma.com
or contact sales@doogma.com, tel +1 (312) 270 0700