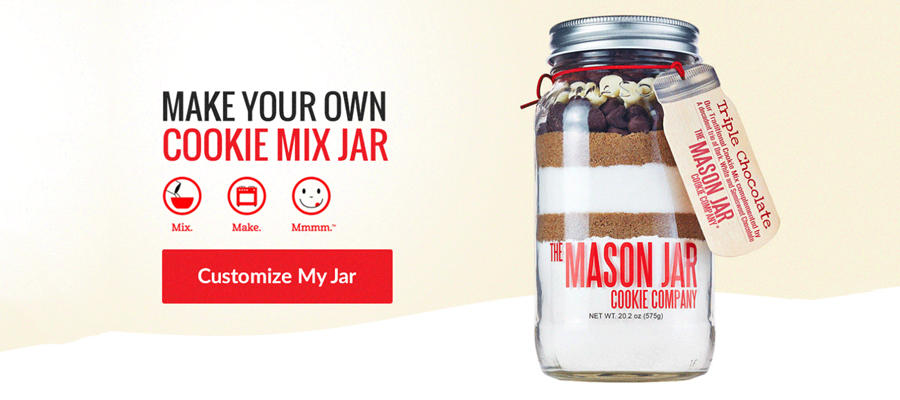 * Mason Cookie Jar * Recently Updated * New Look and Feel * Added Custom Granola, Custom Scones, Custom Brownie Mixes
Best visualization for tastiest cookie mixes
Mix and Match: Base Blends and Tasty Add Ins
Customize the Lid with a Personal Message
Add to Cart and Buy
Fully Integrated into BigCommerce
Cookie Personalization Your Way, Online
What could be better than a batch of warm, fresh-baked cookies? Warm, fresh-baked cookies you can personalize for yourself and your loved ones. That's what the Mason Jar Cookie Company set out to do in their quest to deliver their mix and match cookie baking components in convenient mason jars that their online customers could customize, as well as customizing the lid and the tag for the ultimate personalization. Whether for personal use or as give-aways at Corporate events these custom cookie mixes from the Mason Jar Cookie Company are the perfect personalized product. This famous brand is sold through many national chains that include specialty shops, Crate & Barrel, Kirkland's Home, Fresh Market, and Target stores.
So to move the custom cookie mixes into a self-service, online web experience the Mason Jar Cookie Company joined forces with the Doogma Designer team to empower their website to do just that. Doogma specializes in personalization software for products in many industries who cater to customers in the online retail markets. Here's how they did it for Mason Jar Cookie Company.
Sweet Genius Realized
Using the Mason Jar Cookie Company's existing web site (powered by BigCommerce), Doogma was able to bring the Mason Jar Cookie Company's delectable creations to life. The interactive software allows customers to choose their foundational base with additional toppings and even type in a label of their choosing. These creations become gifts for whoever the customer wishes. Doogma transformed over 189,000 possible cookie combinations into a fun personalization experience that is user-friendly and easy to shop.
"Since the inception of the Mason Jar Cookie Company, we have sought creative ways to let customers share in the experience of designing and personalizing their own ready-to-bake blends," David Ferguson said, who is the founder and Cookie-in-Chief of Mason Jar Cookie Company. "The Doogma team quickly understood our vision and we are delighted with their implementation of the user experience."
Doogma: The Superpower Behind Cookie Customization
Who knew Doogma could help cookies taste better the customer's way in the Mason Jar Cookie Company's website? "Cookies are serious business," stated Dan Ostroff, founder of Doogma. "The global consumer market for cookies is estimated to hit $33.5 billion in the next few years, with a CAGR of 4.1%. That's a lot of cookie dough and The Mason Jar Cookie Company is uniquely positioned to capture a significant share at the luxury end of the cookie-lover market." With their new customization software in place, Mason Jar Cookie Company is already noticing a difference in their sales this year.
If you're looking for a solution for interactive product customization, personalization or bundling, you'll probably find something similar that the Doogma team has already done.
Test drive the cookie customization for yourself to see what the fuss is about. Trust us, you won't be disappointed.
Please visit the new Doogma BigCommerce App Demo store here: https://demo.doogma.com
or contact sales@doogma.com, tel +1 (312) 270 0700