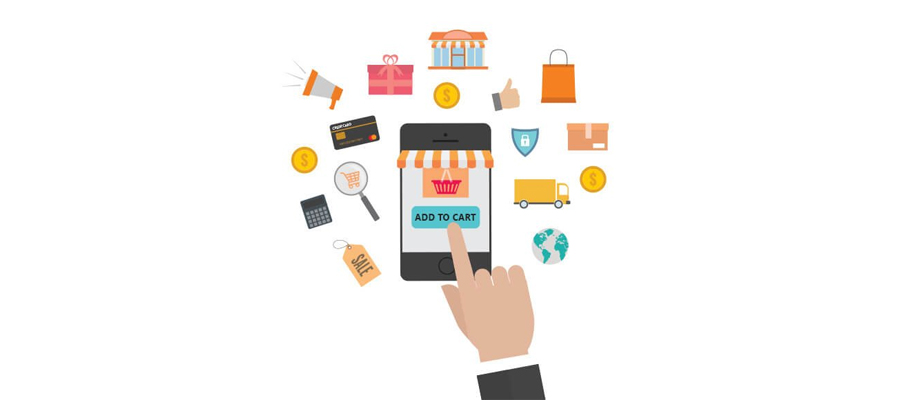 From China to North America- the world is hyped about Mobile shopping
So online shopping is huge, we all know that much- in fact, projections suggest a growth of up to 1.5 trillion U.S. dollars in global e-retail sales just by 2018![1]
But recent years have taught us that m-commerce, that is, mobile shopping, is getting even bigger-
For example, did you know that in 2013 one third of all ecommerce purchases during the holiday shopping season- were made on smartphones?[2]
There's a clear shift in the way consumers use digital channels, and this trend is expected to not only grow, but become the main way to do your online shopping.
In fact we already know today, that consumers spend more time shopping on mobile devices than desktops, with 44% of online shopping minutes spent on mobile, and additional 11% on tablets![3]
Want to talk to us about customizing your online products? click here.
And it sells more too-
Mobile search is constantly on the rise, and research amazingly shows that 78% of mobile searches for local business information result in a purchase! In other words, mobile users are today the most valuable customer segments, because they're the most likely to convert.[4]
So the times, they are changing, but how do you get more conversions?
To leverage these changes, ecommerce marketing needs to focus on 5 actions:
Optimize your online store for a flawless mobile customer experience. A responsive, user friendly site has a huge effect on conversions.[5]
Optimize for mobile search. If users can find your business online, they're most likely to purchase from you.
Easy breezy cover girl- make it easy for them to convert. A great mobile site can convert even better than a desktop site, but you have to make it easy- no fill-in applications required, no app download requested. Just let them buy what they need with a simple action.
Identify users across devices. There's no greater customer turnoff than inconsistencies across channels- it's essential for a more personal communication between the brand and the customer.[6]
Know your target audience. As expected, the online shopper profile is in most cases that of the Millennials- aged 18 to 34, they remain the key age demographic for online commerce.[7]
We keep talking about engagement-
The statistics show customers are more likely to engage with your website from their mobile devices. Use it- make it easy for them to convert, and create a shopping experience that appeals to mobile users.
Conclusion
The internet and recent digital technology have allowed consumers to change the way they communicate with the world and lead their everyday lives. Mobile devices are a part of that change, and have become a main channel of engagement with brands.
All that's left now is for businesses to realize this enormous opportunity, make themselves accessible on mobile and create the easiest, quickest customer experience.
Mobile site responsiveness just seems to be the way for higher sales, and happier customers.
Want to talk to us about customizing your online products? click here.
References
Criteo. (2015, 07 24). Digital buyers turn to mobile devices on a global scale – See more at: http://www.criteo.com/it/blog/2015/07/digital-buyers-turn-to-mobile-devices-on-a-global-scale/#sthash.lbGPY3sx.dpuf. Retrieved from http://www.criteo.com/it/blog/2015/07/digital-buyers-turn-to-mobile-devices-on-a-global-scale/
Jin Oh, S. (2015, June 18). Buyer Behavior Trends Driving The Digital Shift Toward Mobile. Retrieved from http://marketingland.com/buyer-behavior-trends-driving-digital-shift-mobile-132039
Patel, N. (n.d.). Surprising Mobile Ecommerce Statistics that Will Change the Way You Do Business. Retrieved from https://blog.kissmetrics.com/surprising-mobile-ecommerce/
Smith, C. (2015, Feb 23). The surprising facts about who shops online and on mobile. Retrieved from http://www.businessinsider.com/the-surprising-demographics-of-who-shops-online-and-on-mobile-2014-6
Statista. (n.d.). Statistics and facts about global e-commerce. Retrieved from http://www.statista.com/topics/871/online-shopping/
[1] (Statista)
[2] (Patel)
[3] Ibid
[4] Ibid
[5] (Criteo, 2015)
[6] (Jin Oh, 2015)
[7] (Smith, 2015)