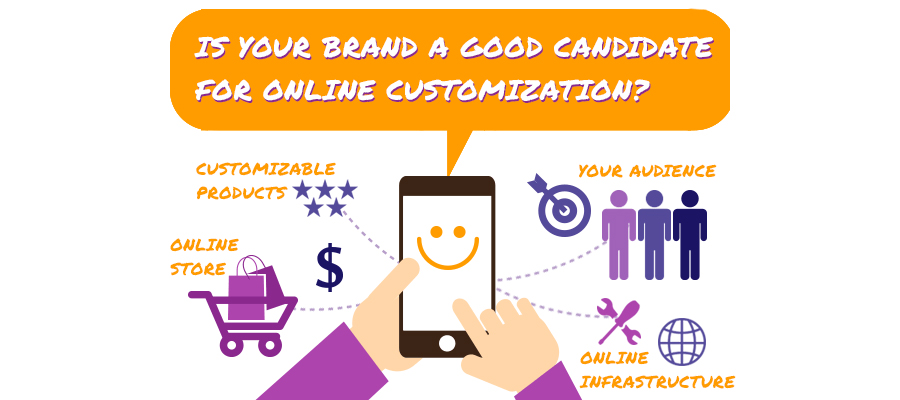 Is Your Brand A Good Candidate for Online Customization?
4 "Must Haves" for A Successful Integration
Concerned your target audience may not be interested in customized products?
Afraid to invest in something you don't know will suit your line of business?
You're right.
You're right to question whether your products are good candidates to benefit from online customization. You're right to inquire about your target audience's preferences. And you're more than right to doubt every new marketing trick that comes along, especially when money is involved.
But one thing is for sure-
Once you've established that your products are customizable, that your target audience is at the very least curious, and potentially interested in customizing their products, and that this is a growing online market strategy that works-
Well, you'll have no choice but realizing that online customization may very well be just the strategy you've been looking for to get ahead of your competition.
So before making any rash marketing and business development decisions-
To speak to someone about customization click here.
Let's discuss the criteria for a good product customization candidate:
A good candidate for online product customization should have a computer-literate target audience. That's probably the first rule in trying out new marketing strategies online- which essentially means you need your audience to be aged at around 19-38, educated and "digitally native." In other words, you need your audience to be made of Millennials, for the most part.
A good candidate should have an online store. No shopping spree? No customization. After all, customization is an additive to online shopping- it's no fun customizing something that will never be yours. Or maybe just not consumerism-style fun, which is what we're interested in.
Customizable products. Personally, I think almost everything is customizable. But if your line of business is based on values of old traditions and conservative preferences, customization might not work for you. However, you'd be surprised at how daring your audience can be… If you're not sure, it's always a good idea to run a survey! Or consult us.
A good candidate should have good online infrastructure for a smooth, user friendly experience, but not much more is required than standard-based protocols (such as XML, HTML, etc).
Have all 4? You're on!
Because these 4 serve as prerequisites for a successful customization SAS integration.
And as for "just a passing marketing trick"-
While it's a challenge to gauge the sheer market potential of product customization for the next few years, it's suffice to look at the stats and find that between 25% to 30% of online shoppers were looking to try customization in 2013 alone![1] This indicates an impressive market share, and shows that customization is no passing trend.
So, ready to farewell with your concerns?
If you're able to provide with all 4 criteria, you can rest assured customization will mean an upgrade to your customer loyalty, your user experience, your customer engagement, your conversion rates and your online brand awareness.
Did I miss anything?
Oh yeah, it will consequently increase your sales too. Big time.
Want to talk to us about integrating customization in your business? We're here!
To speak to someone about customization click here.
[1] (Spaulding & Perry, 2013)