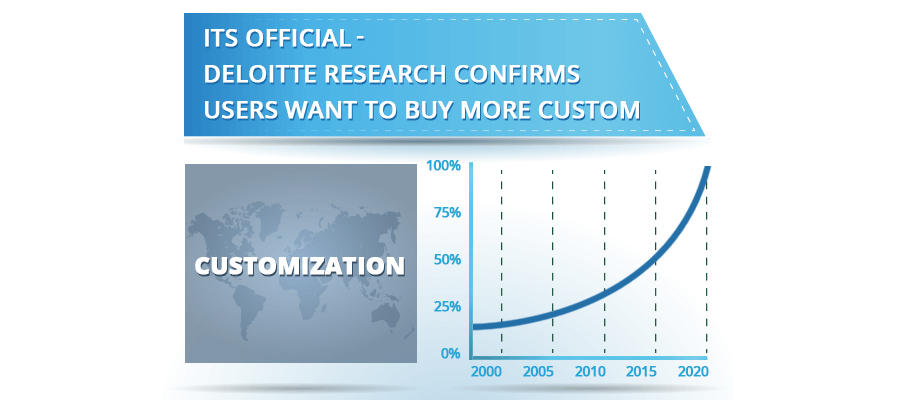 Its Official – Deloitte Research Confirms Users Want To Buy More Custom
In July 2015 Deloitte published its latest consumer review entitled: Made-to-Order – The rise of mass personalisation[1]. The publication discusses three different types of personalization: mass personalization, mass customization, and bespoke, or as we like to coin it – interactivity. In my opinion, it is this last type of personalization, interactivity, that adds true value to customer purchases.
Consider these findings from the survey:
Over 50% of customers in certain categories are willing to pay more for a customized product or service and would also like to be actively involved in the process.
42% of customers who are interested in customized products or services would still rather be led by brands and choose from a selection of options.
This means price isn't necessarily a barrier for customers when it comes to personalized and customized products. In their publication, Deloitte mentions that businesses that fail to incorporate elements of personalization into their offering risk losing revenue and customer loyalty. The challenge is in determining how many options customers need for a product to have a unique flavor while still being profitable.
The Deloitte team suggests that the most economical way to create and deliver custom products is to carry out the customization process as far along in the production and delivery process as possible. One clear result of customization is that each point of the production chain is determined by the desired options and level of customization.
Customization at Each End of the Supply Chain
Some customization occurs early in the supply chain cycle. For example, NikeID and Mercedez Benz begin customization on the factory floor. At the time that the show or car is being assembled, each component selected by the end-user is implemented into the product. Although this form of mass customization has become prevalent, it is not the only way to offer customers the ability to customize and personalize items with an interactive "Design-It-Yourself" experience.
On the other end of the spectrum, creative sellers are buying ready-made Vans Shoes, adding custom artwork and reselling the newly unique Vans at a significant premium. By being able to add customization to an already finished product, the end customer is still able to express his or her individuality with a truly unique product catered to their needs and desires.
Fig 1- Supply Chain Stages – Deloitte advocates carrying out the customization at the latest possible stage
According to the Deloitte survey, these later stages of the production process can be the most optimal time to execute customization. In the Sports and Trophy business, for example, customers entering the store may request a two-column basketball trophy. Many trophy makers carry a stock of components that enable the creation of a wide variety of trophies. Using the visualization provided by the Doogma designer, the maker assembles the trophy according to the customer's exact specifications, mixing and matching components almost like one might do with Lego. Further personalization includes engraving a special title on the trophys' engraving plate.
Other examples of personalization late in the supply chain include products sold on sites like Zazzle, Café Press and Threadless. In these examples, different processes are used to print the personalized design directly onto a mass produced product such as an iPhone case or a tote bag.
You can now offer custom versions of the product for whatever product you sell, and let your customers feel like they're participating in the design process and taking "ownership" even before buying. Research has shown that once a user starts to design their own version of a product, they're much more likely to buy it.
Interested in selling more custom products? Our experienced team can assist you in deciding how best to let your customers design their own products.
To speak to someone about customization click here.
[1] http://www2.deloitte.com/uk/en/pages/consumer-business/articles/made-to-order-the-rise-of-mass-personalisation.html