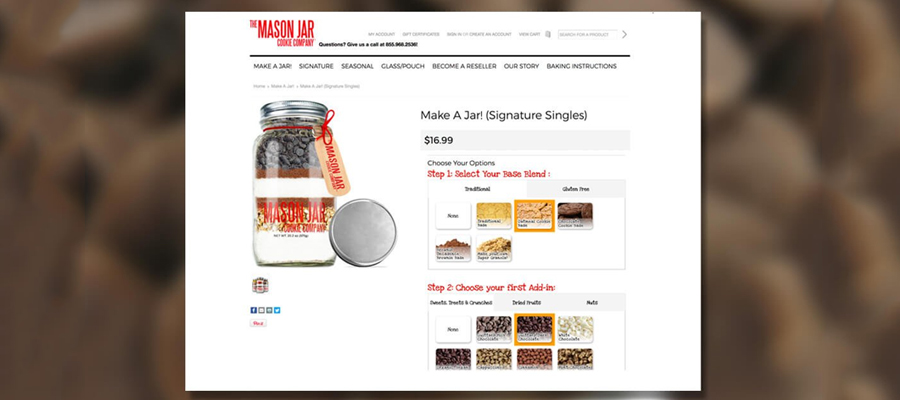 The Mason Jar Cookie Company launches a personalized cookie-maker experience enabled by Doogma and BigCommerce.
Chicago, IL — The Mason Jar Cookie Company and Doogma announced today that they are teaming up to digitize the Mason Jar Cookie Company's recipe designer experience for discerning cookie lovers all over the planet. As part of the BigCommerce Partner Program, Doogma offers clients custom commerce solutions powered by BigCommerce, the leading ecommerce platform for fast-growing and mid-market brands.
Doogma is a global leader in online customization solutions and supports retail clients using the BigCommerce platform to power their online businesses. Their combined strengths created a virtual version of the unique experience that customers love about the Mason Jar Cookie Company: choosing their favorite cookie base, adding all kinds of sweet extras in precise amounts, naming their one-of-a-kind creations, and then bringing it all home in a decorative mason jar with a personal note attached.
Doogma has built customization interfaces for everything from luxury jewelry to game controllers and the Mason Jar Cookie Company brought refreshing new challenges. As with all Doogma projects, it started out with user experience design and figuring out how to present 189,000 possible cookie combinations in a framework that is as easy and fun as the cookies themselves.
"Cookies are serious business," said Doogma founder Dan Ostroff. "The global consumer market for cookies is estimated to hit $33.5 billion in the next few years, with a CAGR of 4.1%. That's a lot of cookie dough and The Mason Jar Cookie Company is uniquely positioned to capture a significant share at the luxury end of the cookie-lover market. Customers of the Mason Jar Cookie Company tend to have an intense emotional connection to their creations and consider the entire selection process to be part of the unique value proposition. They want things to go perfectly and they want plenty of ingredient choices, but not to be overwhelmed by too many options at once. We knew we had to exceed their expectations. We are very happy to partner with the Mason Jar Cookie Company and BigCommerce to demonstrate what the customization experience can mean for online retailers of all kinds."
Customer experience has emerged as the central battleground for retailers, both online and offline, as they search for market differentiation. That's traditionally been more difficult for online retailers as customers just had to pick from a list of images. In-store experiences have been more personalized and interactive simply due to the nature of the channels. Those days just came to an end.
"Since the inception of the Mason Jar Cookie Company, we have sought creative ways to let customers share in the experience of designing and personalizing their own ready-to-bake blends. The Doogma team quickly understood our vision and we are delighted with their implementation of user experience" said David Ferguson, founder and Cookie-in-Chief of the Mason Jar Cookie Company. "We believe that everyone has a secret cookie artist inside them. Doogma and BigCommerce are helping us bring cookie creativity to a new generation of customers."
Doogma demonstrated the Mason Jar Cookie Company customization solution and other applications of the Doogma Designer™ at their booth #662 at the IRCE conference in Chicago, June 6 – 9, 2017. Visitors were even able to design their own products in real time and have it shipped to their home or office.
Check out this Doogma user at http://masonjarcookiecompany.com