Jewelry is the ultimate expression of personal taste and style. Yet, in the past, only the wealthiest patrons could afford to have jewelry designed only for them. Those days are gone. With her online jewelry personalization service Cut + Clarity, Mariana Russo Chambers is empowering a new generation to express their true selves in diamonds and gold.
Before striking out on her own, Mariana worked for more than a decade in the high fashion and jewelry production industry, working directly with top designers and big box retailers. "All of them had the same problem," Mariana told us. "The customer would come back and say, 'We want this piece but…Can you change the stone? Can you make it on a shorter chain?' Everybody wanted an exclusive."
In 2018, Mariana poured all of her industry and consulting experience into the creation of a truly original online boutique. Cut + Clarity introduced customers around the world to the freedom of co-designing their own personal jewelry. Doogma was right there with her from the very beginning.
The Challenge: Personalization Gets Personal
The spark that set Mariana down this path was when she observed how customers had lost a vital connection with the craftspeople who designed fine jewelry. Too many consumers tended to look on jewelry as just another anonymous retail item from "some massive machine with a magical button." She wanted everyone to enjoy the feeling that came from buying special statement pieces made just for them.
Mariana detailed her vision of the Cut + Clarity experience: "To give the customer a way to shop for exactly the piece they wanted at the price they want to pay. Instead of making products and hoping that people buy them, which is the traditional retail model (which is so flawed), I wanted to focus on mass customization and smart inventory for fine jewelry."
The biggest hurdle Mariana faced was the time and energy it took to give each person the attention they deserved, especially as she ran much of the business on her own. "I would have my CAD designer send me images," she explained. "Then I would update my customer all along the way so they could see what their item would look like and they wouldn't have to guess. At the same time, I was pregnant with my daughter, cropping and pasting pictures. I knew there had to be a better way to create this experience for the customer."
That's how the Cut + Clarity website was born. Mariana said, "I wanted reactive design and dynamic visuals." Doogma presented her with a tool that put the power of creation in the hands of the customer – to make changes to their desired jewelry and see the images update instantly. That was exactly what people wanted in this new world where uniqueness wins and time is the most valuable resource.
The biggest challenge for translating the Cut and Clarity experience into a real-time interactive designer tool on the website was the variability in the final image. How do you accurately display the personalized text of a necklace or a ring?
Personalized necklaces are just one of the many services offered by Cut +Clarity, but they have been by far the most popular.
Every personalized piece of Cut + Clarity jewelry that includes a name is unique in a number of ways. How the name appears is an integral part of the design. As each name varies in number of letters, total width and font style, the final online image generated will appear very different. Creating an online tool that could instantly handle that much variability took a great deal of planning and ingenuity.
Doogma's Solution: Cut + Clarity's Customization Experience
In order to create the kind of instant real-time visualization that Cut + Clarity needed, the Doogma team built a tool with custom fonts that not only give the 3D look and feel of the metal with the appropriate level of shine but also can adjust the entire design based on the total width and adjusted for specific characters in the name.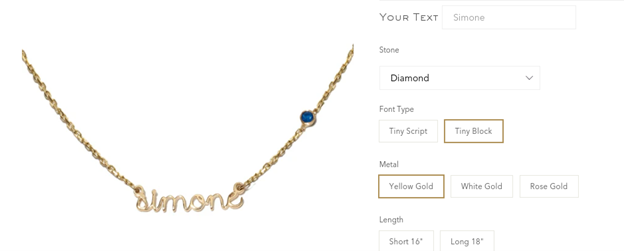 That's how Cut + Clarity customers can be part of the entire process- from initial design to shipping. Using Doogma's configurator, customers can write their own name or special message, select the font, specify the stone to accompany it, choose the metal and specify the perfect length for the chain.
Looking back on the Doogma implementation project, Mariana noted: "Working with Lena from the Doogma team was great!. She was quick to respond and made sure that we could continue improving the actual implementation until we were completely satisfied."
The Result: Customization Meets Sustainability
In the rush to build one-of-a-kind items, it can be hard to keep an eye on sustainable business practices. After all, custom-built products for billions of individuals can end up in landfills unless businesses stay attuned to the full life-cycle of the products they sell. That's one area where Cut + Clarity excels, and can serve as a template for other bespoke manufacturers.
Mariana encourages customers to "reincarnate" their personal creations by taking advantage of Cut + Clarity's Gold Buy Back Program. With the popularity of this program, she has expanded it to cover platinum and silver offers on a case-by-case basis.
This program highlights Mariana's mission to not just give customers what they deserve, but also give back to the world through sustainable business practices, on both the local and global level.
Mariana gives back to her local community keeping all production in New York City while funding apprenticeships for women of color and underserved communities. In the big picture, she is committed to using recycled metals and ethical partners for the sourcing of her stones.
This sums up Mariana's path to success in the online space. "Have a mission, not just a product. Know what you stand for, and keep that front and center as you tell that story to your customers. Your product supports that and gives evidence for your story. We want to be known not only for customization, but also for sustainability."
Takeaways
What they buy is who they are. Customers are no longer enthusiastic about the old retail model of picking out items from whatever is available. They want to have a hand in designing what they buy because it truly is a personal expression of their personality and style. The more unique it is, the more they will share it with friends and family.
Seeing is believing. Any time the customer makes changes to a product, they need to see exactly what it will look like when it arrives. Sketches and material samples are no longer sufficient to satisfy their demands because too many competitors already offer online customization tools with dynamic response.
Experience is king. In a world full of choices, customers return to the vendor who offers the best buying experience. Part of that essential experience for customers is knowing who they are buying from. Tell your own unique story and use your online platform to connect with customers on a personal level.