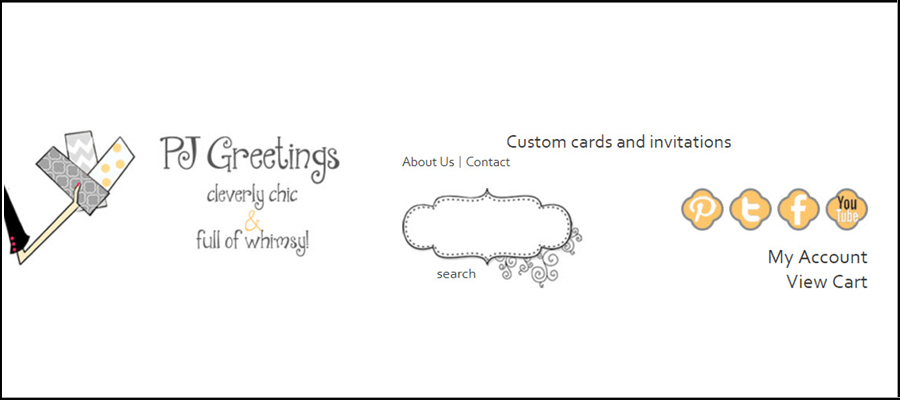 PJ Greetings started from a simple request. PJ (yes, PJ is her real name) was asked by a friend to make party invitations for her son's third birthday. After birthday related creations came a craft show in which PJ showed four or five holiday card designs, along with hand drawn personalized stationery.
BOOM! Demand started coming in strong for the product line.
Eight years later PJ Greetings has thousands of wonderful customers across the world that love their personalized products!
In 2016 Lingraph Services Co. bought PJ Greetings. "In this age of email and evites, it is great to see that that customers realize the importance of handwritten notes and customized invitations and holiday cards," says Brad Boskovic, President of Lingraph.
After the acquisition, Lingraph saw opportunity to redesign the website. The addition of a customization tool so customers could create their own cards for any occasion was a critical requirement. The company turned to Doogma Design. Deploying a custom built Doogma Designer proved to be an ideal solution for customers to easily design their own cards.
Customers visit the website daily now and design everything themselves. The same creative work and delightful designs that PJ herself once provided, are now offered as a "do it yourself" feature of the website. It is still possible to have PJ help with the designs, there is a "white glove" service for those clients that request it.
Lingraph has expanded the product line beyond cards as well. Lingraph launched Digiwrap three years ago and now offers digitally printed tissue paper. An exciting event for the company was when that product was successfully pitched on ABC's Shark Tank!
So, shoppers can print custom cards and then wrap any gifts for the event with personalized tissue paper.
"We have a truly unique product and it's only available from Lingraph and Digiwrap," says Boskovic. "We have no minimums and short turnaround times. With Digiwrap personalized tissue paper, you can also customize the product with your corporate brand, logo, product shots, or even full-color photos."
What's next? Lingraph plans to add their inventory of bags, boxes and ribbons (all to be completely customizable, of course). Those additions will provide the complete package of customizable gift supplies.
According to Boskovic, "The bags are high end euro tote style gift bags. They are full color, laminated and feature high end handles."
Lingraph has thousands of varieties of shopping bags, gift boxes, gift wrap, and other gift packaging accoutrements— everything a retailer may need to fully and beautifully stock a packaging program.
A challenge for the Doogma team of developers was how to configure the designer so that each of the items could be customized easily and intuitively. In the end, even with such a wide variety of products the Doogma Designer provided the solution required.
Buyers for retail store supplies, commercial events, personal celebrations or even just an individual gift for that special someone check out pjgreetings.com. You can also visit lingraph.com and digiwrapit.com to see the products that will be arriving soon on the PJ Greeting website.
Then contact Doogma to see how we can help you realize your custom designer needs for your online products. Visit Doogma.com or call 312-270-0700.