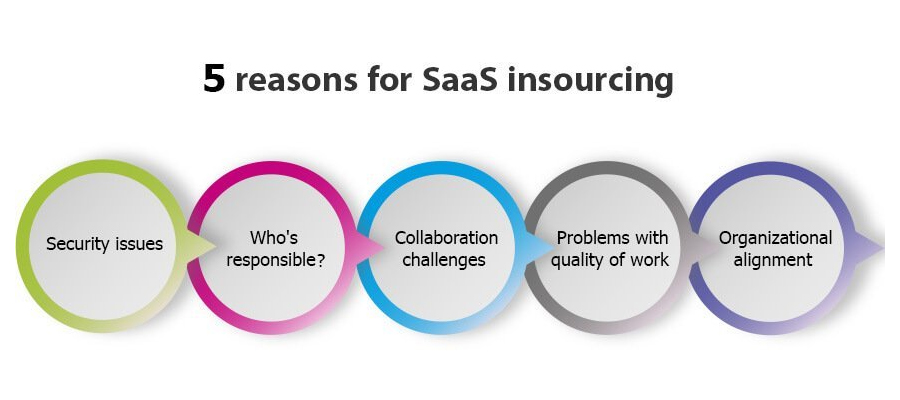 The Economic Argument for Insourcing SaaS Solutions
So here's the story we all know too well-
The economy is bad, companies are increasingly struggling to stay relevant in today's competitive market, and the one thing that gives you the competitive advantage is, of course, cutting in costs.
No matter the industry, today a common way to do that- cut in costs- is outsourcing some of the production lines to offshore vendors.
In the case of software companies, more and more IT services are becoming offshore turnkey projects, such as: data hosting, help desk/service desk, implementation, product maintenance, disaster recovery services, etc.
With the North American and European workers requiring western-standard wages, the work force in India or Bangladesh has never seemed so appealing.
And so it goes that by offshore IT outsourcing-
The company is able to retain the same productivity, at a (much) lower price.

Companies get increased ROI

And new business opportunities are available for other countries in the developing world (so we can all feel really good about ourselves)
What seems to be the problem then?
Well, aside from the moral aspects of laying off workers in your own country in favor of other countries' workers that are usually dramatically underpaid and ill-treated by western standards-
To speak to someone about customization click here.
There's the economic argument to consider.
Did you know that according to a Deloitte LLP study nearly half (48%) of all participant outsourcing companies terminated their outsourcing agreement? In fact, 34% of those actually chose to bring their outsourced services back in-house.
Why?
Well, surprisingly enough, 77% of them indicated that the reason was to cut in costs. Now isn't that confusing..?
The reality is there's a growing trend of SaaS insourcing, and here's why-
Although a seemingly perfect solution to cost-efficiency issues, offshore IT outsourcing comes with a price:
Security issues.

Studies show security to be one of the main concerns when adopting and implementing SaaS solutions.

And although this issue has long been resolved by investing in the right network security, encryption, access rights, scalable architecture, and experienced personnel to ensure that systems are implemented and monitored properly.

There's more reason for concern when transferring sensitive data such as personally identifiable information (PII) to offshore locations, where it is not certain vendors comply with the same network, application and data security standards.
Who's responsible?

Different government restrictions, local laws and authorization requirements- Who handles the legal aspects? Who's responsible for compliance with applicable laws regarding customer policies, personnel employment, immigration, encryption technology, etc. The bottom line is- these issues sometimes require a ridiculous amount of funds and constant handling. Is it worth it? Probably not.

Problems with quality of work.

Even if we leave all of the above aside, quality control is a big enough issue by itself. Not necessarily the offshore vendor's responsibility, some IT services simply can't be provided successfully under outsourcing circumstances, such as software product maintenance and other services requiring immediate and direct communication between the customer, the onshore IT teams and the offshore IT teams, which brings us to the next point.

Collaboration challenges.

This seemingly minor issue turns fundamental when it comes to loss in productivity. Communication problems are very common in offshore IT outsourcing, making it very hard to deliver quality services.

Organizational alignment.

Finally, there's the challenge of aligning offshore and onshore IT teams together on the same page, regarding both customer expectations and the company's business strategy.
In other words, when looking at the big picture, you end up spending far more on SaaS turnkey offshore solutions than what you initially expected.
Wrapping it up-
Ultimately, as Karen Goulart from TechTarget puts it, "over the years a combination of factors including foreign inflation, a U.S. workforce surplus, increased visibility into the true end-to-end cost of the outsourcing transaction and renewed focus on service quality- have all eroded the traditional offshoring value proposition."
So rather than entrusting your services with faraway offshore vendors, think hard if the overall price is worth the short-term lower costs.
Oh, and maybe also sleep better knowing your onshore SaaS vendor is probably providing better employment conditions.
Because as it turns out, when it comes to SaaS outsourcing-
There's just no place like home.
To speak to someone about customization click here.