Sales of personalized dog tags jumped when they added instant online visualization to orders. Pet owners begged for more.
There are at least 90 million pet dogs in the US, according to the American Pet Products Association. Every single one is born with a natural curiosity and endless supply of energy, as any pet owner will tell you. That curiosity can lead pets down some strange pathways, but they will always find their way home as long as they wear a personalized collar with current owner info.
But what happens when low-cost collars fall apart? Or dog tags become unreadable in the wear and tear of a dog's active lifestyle? While not all dogs are so adventurous, every pet deserves their own personalized sturdy collar and an easily readable tag.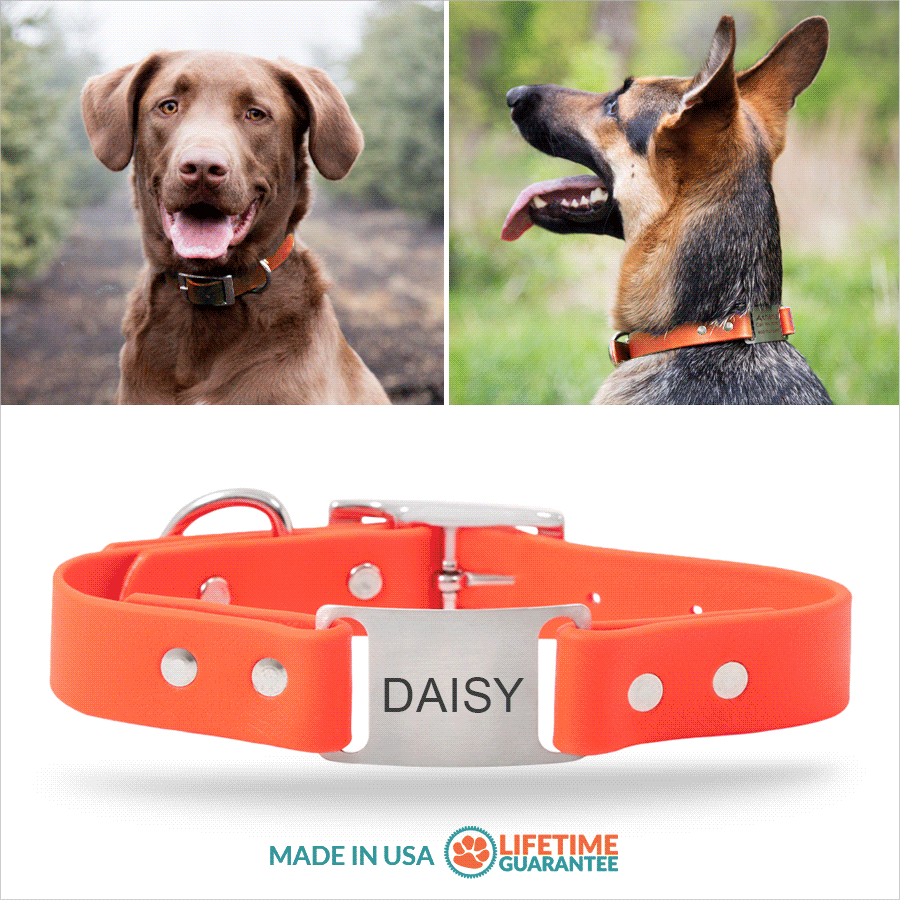 Ecommerce Sales Bound to New Heights in 2020
The COVID-19 pandemic made everyone think twice about how they buy what they need, in every category from dog collars to weekly groceries. In Q2 2020, $1 out of every $5 spent by consumers took place online. Along with that trend is a massive uptick in requests for personalization and customized products, according to a 2020 report in the New York Times. In that report, researchers at the University of Cambridge predicted "most major consumer companies would have a customization operation within five years."
Dog collars and pet supplies used to be one of the categories where people would just pick up what they needed at local pet stores or big box department stores. Those days are gone for good.
Life-long dog lovers Clint Howitz and his wife Lori were way ahead of the pack in this respect. They launched their online business DogIDs in the basement of their Fargo, ND, home 15 years ago. Their aim was to produce high quality dog tags that wouldn't rust or fade, no matter where rovers roam and no matter how rugged a dog's life can get. As their range of personalized pet items expanded, the crew remained dedicated to improving the lives of four-legged friends everywhere.
"Our highest priority is getting lost dogs back home fast," Clint said. Cheap collars often break after a few months and low-cost dog tags quickly discolor, crack or rust after a good boy goes for an unplanned swim. "Buy a tag out of a machine at Walmart and you'll be buying another in a month," Clint pointed out. "Our tags are stainless steel and fiber laser cut for high-contrast, deep lettering that can last for the life of your pet."
Personalization Made Simple
As Clint's customer base expanded over the years, it became unmanageable to quickly personalize and customize all his incoming orders. He needed to show customers exactly what they were ordering, as well as shorten the time from initial contact to final shipping.
Clint said, "People want all kinds for the cool, personalized things their pets. Embedded microchips, embroidered collars, unique messages on the nameplates, you name it. We do it all, but we didn't have a way for customers to see the personalization before committing to a purchase. They wondered how their design would really look compared to the standard image."
Clint's team brought in the experts at Doogma to design the perfect online configurator. Now customers can write their own text, pick out their favorite colors and see the exact collar they want appear onscreen immediately.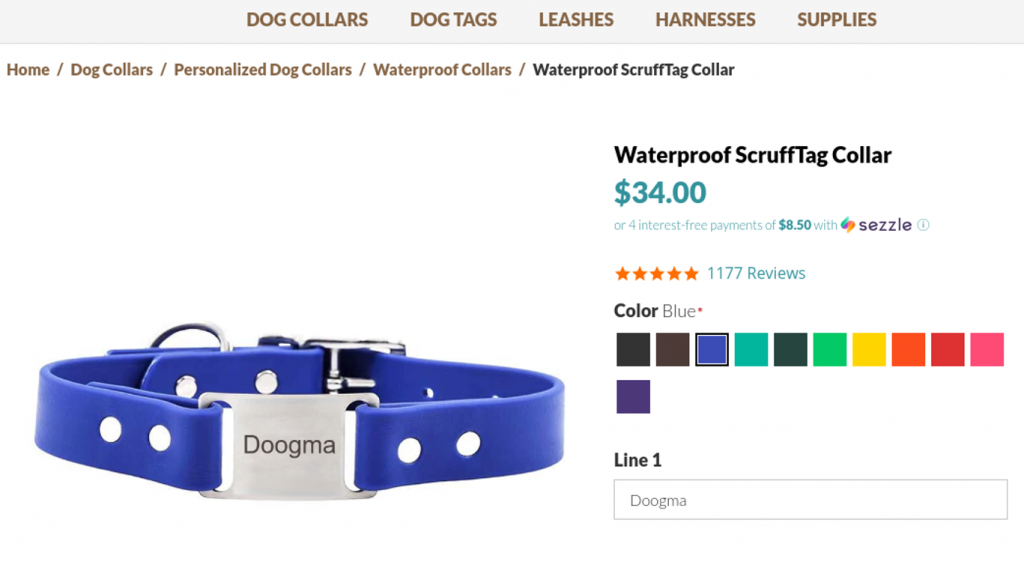 Doogma took the complex model of picking out customization and personalization options and turned it into something simple, fun and exciting to see happen before the customer's eyes. After creating the perfect collar or accessory for their perfect pet, shoppers are more inclined to share what they have built with family and friends.
"We definitely noticed a difference right away," Clint said. "A lot of times with an online business it's hard to measure exactly what's working, but since we installed Doogma about nine months ago, we've seen a 25% increase in conversions. Our customers really like to see what they are ordering before they buy it."
The market for pet owners in North America alone is enormous. In response to demand, Clint has expanded into customized products like feeding mats, dog sweaters and even specialty pet skin care. That's because Clint has some of the best advisors for what dogs want on staff permanently. "Sometimes the office is filled with five, six or seven dogs. It can be something else when the postman arrives but we're all pretty happy here."
That love of dogs and respect for their customers really comes through in all their customized and personalized items.
Customers Are Searching for Personalized Experiences
For anyone operating a business with an ecommerce component in these uncertain times, Clint has a few words of advice.
"Pick your niche and don't give up," Clint offered. "People today really want to connect with someone who is actually making a product and crafting it with care. That has become more and more important for shoppers as so much of our lives have been automated. Start small, build your brand, focus on the craft."
Takeaways:
Consumers treat personalized items like an investment. The pet care segment represents just one corner of the massive and growing market for customized and personalized items. Consumers increase their order sizes and buy more premium options when they have a pathway to create their own unique designs and messages.
Ecommerce is taking off in 2020. Consumers are turning to Ecommerce options like DogIDs to find a deeper inventory of goods and the ability to collaborate on creating what they buy. Doogma's configurator streamlines the Ecommerce buying experience, creating a realistic visual of customized items immediately, along with interactive controls and precise rendering.
Personalized items create a special connection with consumers. Conversion rates for DogIDs grew by 25% after buyers were able to see and change their designs in real time using the Doogma configurator. Clint's customers say that these days his customers are more attracted to unique products and the people who make them. Personalized items create an emotional bond that consumers need now more than ever.