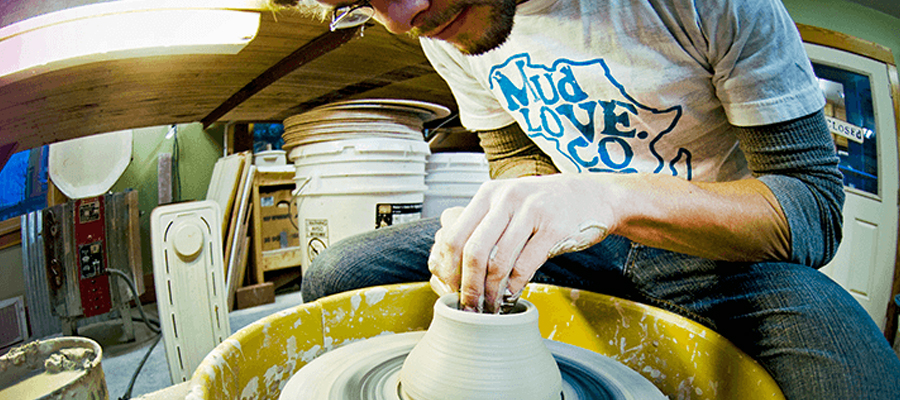 Mud into Water? Sounds like a miracle. But it is real. The mechanics are based on human activity, and the results are life saving.
There are 663 million people in 2017 that do do not have access to clean water. This is a drop of 40% from 2004 when 1.1 billion people in the world lacked access to clean water but the work is not done. Lack of clean water and proper sanitation continues to kill more people than all forms of violence (including war).
In the Fall of 2009, wheels were turning. Potter's wheels, that is. Big dreams were becoming a reality inside a tiny garage. With nothing more than an old stamp set, a box of clay, and a plan to support clean water projects in Africa, handmade creations emerged and MudLOVE was born.
"With 'mud' in our hands and love in our hearts, the chance to make a difference is our inspiration to create." says Sean Cruse of MudLOVE.
Every product purchased from mudlove.com provides one week of safe, clean water to someone in need. All of this is made possible through Water for Good (waterforgood.org) and its continual work to transform the Central African Republic, one of the world's most neglected countries, by building and maintaining wells that access safe water from deep underground aquifers.
With good works comes good feelings. Daniel Townsend, CEO of Plum Tree Group, the company that helped build and market the mudLove.com website, had this to say. "We were motivated by the humble beginnings of Mudlove and by the social impact they've had in Africa and other parts of the world. This was a fun project to work on and it makes it all the more rewarding when you can work with such an awesome brand."
However, mudLove.com was facing an issue that needed a specialized custom designer. "When MudLOVE first started making custom bracelets and mugs, we would stamp each letter and character into the clay by hand. After a few years, we switched over to a printed decal system in order to save time. While the results were good, our customers consistently requested a return to our original hand-stamped style" says Sean Cruse of MudLOVE.
They knew that if they were to bring this technique back, they'd need an online solution to help their customers visualize their products as they designed each band and mug. By implementing the Doogma Custom Designer on the site, mudLove was able to realize their vision.
Lena Trakhtenburg, Doogma's Creative Director spoke about the challenges of this project: "The Mudlove bracelets and mugs are created using a stamping process. Our goal was to create an easy-to-use product customization user experience while making sure that the visuals will look as close as possible to the real thing. We decided to go for an experience using a slider for users to have absolute control of the the spacing between characters. In addition, the Mudlove experience facilitates users selecting the number of lines of text as well as selecting from a few special symbols like a heart or musical note that are also added in the stamping process."
"Having Doogma implement our custom product builders has been a huge step forward for us. Customers love being able to see what their unique pieces will look like before they're made. On the production side, our artists can easily view a customer's design, and translate that to the stamps and clay. This new system has allowed us to have a perfect combination of modern technology and timeless craft. Our sales of custom products has increased, and more importantly, we've been able to return to our roots without sacrificing time or quality. We look forward to working with Doogma in the future, as we discover even more possibilities for improvement and innovation." says Sean Cruse of MudLOVE.
As for Doogma, they are very grateful that mudLove brought them into the project and look forward to helping mudLove grow and keep turning mud into water.
Help turn Mud into Water by visiting mudLove.com.
Read all about the mission or Water for Good at waterforgood.org.
Then contact Doogma to see how we can help you realize your custom designer needs for your online products. Visit Doogma.com or call 312-270-0700.