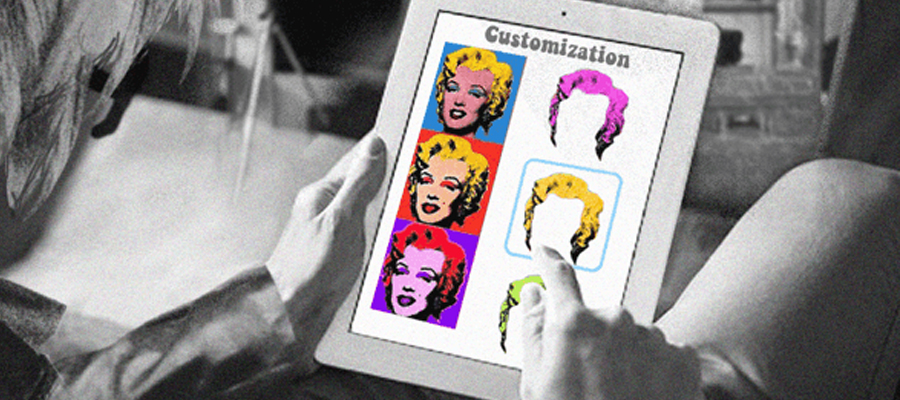 Why Customization Doesn't Steal Your Thunder
One common concern regarding the current trend of customization among online businesses seems to be around the level of freedom that should be given to customers-
Brands fear that by customizing their products, they might lose their edge, giving up what makes them unique, their 'x-factor' if you will, for the sake of personalizing their products.
But Here's the Deal-
It's all about giving just the right amount of freedom to let your customers feel they're getting an individualized buying experience, while allowing just the right amount of a limited choice range: It's been established that online customers' decision making process works to the advantage of the brand when presented with a limited set of options to choose from. And in reference to customization, it's clear that though customers do prefer to be given the choice to design their own product, they get overwhelmed when given too many choices. This actually means good news to online brands, making customization a structured process rather than an 'anything goes' one.
Just the Right Amount of Freedom
See, this is what's so beautiful about mass customization- customers enjoy the benefits of affordability made possible by mass production, along with a sense of individuality so desired in today's mass consumption culture. In other words, what customization really offers is comfortable freedom; the ability to choose, but without the excessive cognitive effort that often comes with it.
To speak to someone about customization click here.
So How Do You Create Limited Freedom? Here's a Few Tips-
Never give too many options. Let your customers enjoy a variety of customization options, but not too many to make them feel lost.
You design- they choose. It's always a good idea to create a bank of designs to let the customer browse and choose from. Most customers prefer choosing over doing the actual work themselves.
Never offer a blank page. Give your customers a base they can build their preferences on.
Make the process easy, friendly and fun! This should be an enjoyable experience, not a brain-breaker exercise. Personalizing is fun, so long as it's not exhausting. Make it short and sweet.
Encourage sharing! Offer your customers a chance to share their custom-created product with their friends and family, to enhance their image as individual creators. Needless to say this has tremendous marketing value.
And so while it may seem there's a risk of losing your signature mark in customization, this is hardly the case. In fact, it's quite the opposite that seems to be true- by allowing a little leeway in terms of personalizing your product, you're actually increasing your hold on it, by defining the outlines of the process, making it clear which features always remain.
It's a win-win
Eventually, all we want is for our customers to be happy enough to keep coming back. Customization essentially creates this win-win situation, by offering our customers what everybody wants today- a chance to be different, original, and unique- in the comfort and security of our familiar brand.
So give your customers the freedom to choose, and see how they keep coming back to choose you.
To speak to someone about customization click here.
References
Lipson, J. (2014, July 28). How To Leverage The Power Of Personalization In Your Business. Forbes. Retrieved from http://www.forbes.com/sites/jesselipson/2014/07/28/mass-customization/
Margalit, L. (2014, October 21). Online Decision Making: What Really Drives Customers to Choose One Option Over Another? Retrieved from https://www.linkedin.com/pulse/20141021091911-30952173-online-decision-making-what-really-drives-customers-to-choose-one-option-over-another?trk=mp-reader-card